Clay Sculpture Session
Fall 2017 and Spring 2018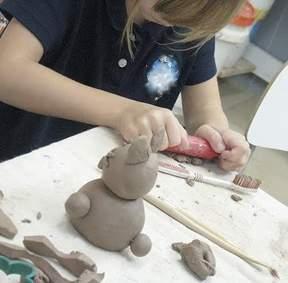 After School Art Workshop, Grades 1 – 6
Caleb Greenwood, Rm #23
Explore Creativity – Build Skills – Have Fun!!
Fall 2017
Times: Tuesdays 2:25 – 3:25, Room #23
Dates, Cost: Sept 19 – Nov 14; 9 weeks, $130
Winter / Spring 2018
Time: Tuesdays, 2:25 – 3:25, Room #23
Dates, Cost: Jan 16 – April 3; 10 weeks, $145
No class on holidays or minimum days. Enroll early – space is limited. Grades 1-6
Young artists in this workshop will create an array of fantastic and functional art: bowls, lidded jars, and tiles drawing upon themes from nature, fairy tales, or popular culture…birds & animals…flowers, trees, & people!
Through these fun and creative projects students will learn all the basics of handbuilt sculpting in clay, while learning concepts of form and functionality. Freedom of expression, creativity, and constructing skills are stressed. Projects are for both beginners and students who have had previous clay instruction.
The instructor is a working artist and mom who exhibits in regional galleries and teaches sculpture courses for children at Country Day School and the Crocker Art Museum.
Note: Contact Julie Didion at 216-5797, or juliedidion@comcast.net for more info.
Click on the Enrollment form on the top right side of this page, enrollment is on a first come, first served basis. Do not send payment to school.
Mail lower half of form and payment to hold your space in class – Please make check payable to:
Julie Didion / 609 38th Street / Sacramento / 95816
For more info: (916) 216-5797 // Email: juliedidion@comcast.net