Fall Festival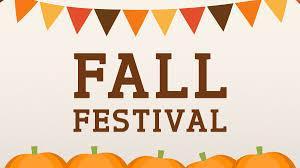 Dear Caleb Greenwood Families,
It's almost that time of year again—the annual Fall Festival is Friday, October 25th from 5:00 to 7:30 p.m. Here's everything your family needs to know to have a great time!!
This event isn't possible without volunteers. Please sign up for a half hour time slot with your kids' teachers to work a game booth or activity. We also need more volunteers for clean-up. Or consider making a tasty donation to the cake walk.
Activities include carnival games, inflatables, cake walk, hayride, music by Lady DJ Char, free photo booth (courtesy of Dr. Szymanowski Orthodontics), and mini-pumpkin decorating. There is also a costume contest and a scarecrow contest with prizes for the winners. Contest details will be provided on a separate sheet.
Wristbands are $5 and tickets are 50 cents each. Presale starts Monday, October 21st in front of the cafeteria, before and after school that entire week. Sales will also occur during the event. Wristbands will cover the game booths and inflatables. Activity tickets: Cake walk (one ticket per try), scarecrow contest (one ticket per vote), mini-pumpkin decorating (one ticket per pumpkin), and horse-drawn hayride (four tickets).
Food available for purchase includes pizza, BBQ plates, Meltdown Ice Cream and gourmet popcorn.
Students, friends, family and neighbors are all welcome to attend. However, all children under the age of 16 must be accompanied by an adult. We will have a uniformed Sacramento Police Officer on site to encourage respectful behavior and ensure the safety of the attendees.