Parent-Teacher-Student Organization (PTSO)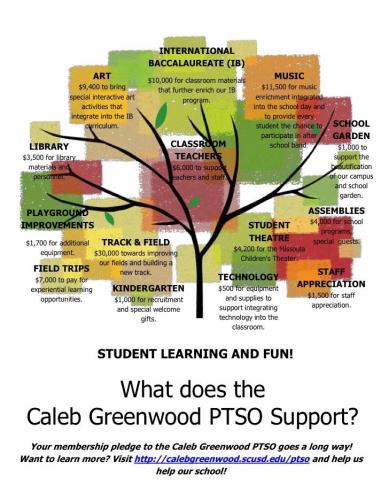 The Caleb Greenwood PTSO is a collaborative of parents, teachers and administrators at our school. The primary purpose of the PTSO is twofold: to provide a communication link between the parents and staff at the school, and to offer a vehicle for funding enrichment programs for our students. The time and energy devoted by PTSO members makes the difference between an average educational experience and a superior one. In recent years, the PTSO has been responsible for bringing art, music and technology to our Caleb Community.
To become of member of Caleb's PTSO, simply print off and return the membership form linked on this page or Paypal the amount of your desired membership level to calebgreenwoodptso@gmail.com
Thank you for supporting our school!
To view our Important Documents, click here.
PTSO Donation (any amount)