Support your School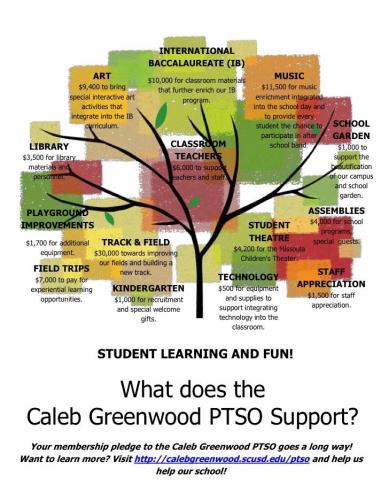 The Caleb Greenwood PTSO is a collaborative of parents, teachers and administrators at our school. The primary purpose of the PTSO is twofold: to provide a communication link between the parents and staff at the school, and to offer a vehicle for funding enrichment programs for our students. The time and energy devoted by PTSO members makes the difference between an average educational experience and a superior one. In recent years, the PTSO has been responsible for bringing art, music and technology to our Caleb Community.
Welcome to our Volunteer Page!
If you have any questions about signing up for an event on Signup.com, please contact event chair.
Upcoming Volunteer Opportunities
Click here to view our list of sign up sheets:
If you would like to help maintain our school or class gardens please contact Anna Symkowick-Rose at asymkowick@yahoo.com.

School Library. Help your child's class in the library on their assigned day and/or help reshelf books. For more information: Sheila Peddy, aaronandsheila@me.com Eadie Parody, eadieparody@yahoo.com.
How to Sign Up using Signup.com:
1. Click on the button above to be directed to our group page on Signup.com where you will find a list of our upcoming events or ongoing activities.
2. Enter your email address. You DO NOT have to create an account to sign up.
3. Find the activity or event you'd like to help out with and click "sign up."
4. Click the green "Save" button.
5. You will receive a confirmation email immediately and a reminder email two days before your event.
6. If you find you are unable to sign up for an activity, it is because the spots have been filled. You can choose another activity or contact the committee chair.

Required Paperwork/Clearances:
** Please note: All volunteers who will be working directly with children at PTSO events or during the school day must complete the required paperwork in order to obtain clearances. These forms are available in the school office or can be found at http://www.scusd.edu/volunteer (click on "Volunteer Packet"). Once you have been cleared you will be contacted by our office staff. Please contact the office staff if you have any questions about your paperwork at (916) 277-6266.
FREE TB TESTING
Free TB tests are given at the Enrollment Center, located at 5601 47th Avenue, Sacramento CA 95824. Phone is 916 643-2400.
Tests are given on TUESDAYS ONLY from 3:30 to 5:00 p.m. in Room 4. Tests are read on Thursdays in the immunization room 4 from 3:30 pm to 5:00 pm.
If you would like to view the TB testing schedule, go to: http://www.scusd.edu/volunteer and click on Schedule of Free TB Test Dates at Serna.
The school supplies are requested items that your child should have ready on the first day of school. All supplies are shared and should not be labeled with your student's name unless otherwise noted. Shared items will be collected for classroom use. Consumable items will need to be replaced throughout the year, and your child's teacher may request these and additional items as needed.
For in-person shopping, our school ID number for Office Depot's 5% Back to School Program is 70013341. Thank you!
Here are a handful of ways you can raise funds for our school while going about your daily activities. All that is required of you is to register with participating companies and then spend as you normally would. The companies give a percentage of your spending back to Caleb Greenwood. It's that simple and it works!
Please participate. Encourage friends and family to participate. By the end of the year, each family will have contributed a few hundred dollars without giving up any extra time or money!
If you have any questions or know of a great program Caleb Greenwood might be missing out on, please email calebgreenwoodptso@gmail.com.