2020 Distance Learning Schedules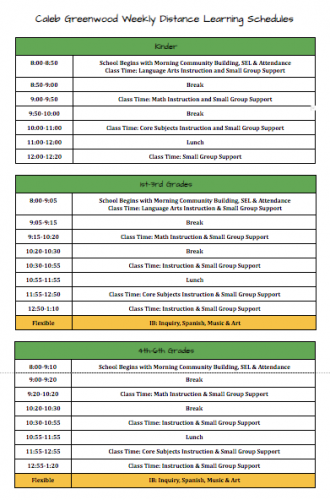 Good Afternoon, Caleb Families,
As we end our first week of distance learning, I first want to thank our teachers for their tireless and incredible efforts this week; to our parents and guardians for holding down the fort at home while juggling work, school, parenting and life; and to our awesome students for showing up, smiling and being open-minded as we embarked on this very unusual school year.
As you have likely seen, SCUSD announced final school schedules this morning, which begin Tuesday, September 8. Please click here for schedules for kinder, 1st-3rd grades and 4th-6th grades. I know the lack of schedule has been stressful and I appreciate your patience, understanding and advocacy as we waited for this information.
You'll receive another email from me tomorrow with details about the week ahead, including materials distribution, emergency contact information and other critical items.
Enjoy your weekend. And as always, please feel free to reach out to me with any questions.
Principal Erin Hanson, erin-hanson@scusd.edu