2023 Fall Festival
Friday, October 27, 2023
5:00 - 7:30 PM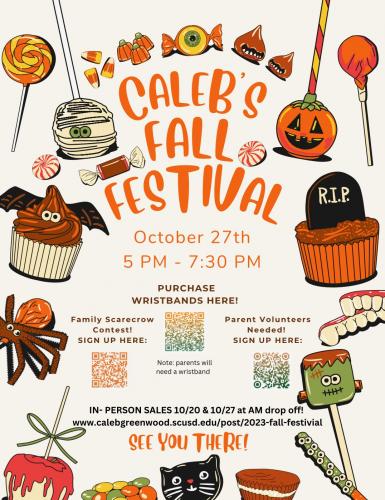 Oh my goodness, after a three-year hiatus, we are excited to be back celebrating the fall season with our Caleb community!
Get Tickets
$10 will get you an all-inclusive wristband for the event. This includes things like the cake walk, horse-drawn hay ride, photo bus, games, music by Lady DJ Char, and more! Please note: Students, friends, family, and neighbors are all welcome to attend. However, all children under the age of 16 must be accompanied by an adult. We will have a Sacramento Police Officer on site to encourage respectful behavior and ensure the safety of all attendees.
Food is sold separately in our outdoor food court. Enjoy food from one of our featured food trucks: Gyros Stop, Wing Man, or Dubbs Lunchboxx. Feeling indulgent? Delight in a sweet treat from the kettle corn and ice cream cart! Nut-free picnics are also highly encouraged.
Volunteer
The Fall Festival needs your help! Please consider volunteering for a shift or making a donation to the cake walk!
Parents, students and off-campus volunteers can sign up for a 30 minute or 1 hour shift between 2-7:30 p.m. to help set up, lead a game booth, staff the wellness table, help with face painting or donate a a cake, cupcakes, cookies or Rice Krispies treats for our cake walk.
Family Scarecrow Contest!
All Caleb Greenwood families are invited to sign up your family to participate in Caleb Greenwood's scarecrow contest! ​Scarecrows can be a great excuse for the family together for an arts and crafts project (BONUS! The winner gets a gift card for a fun family outing!) We're absolutely thrilled to see the amazing scarecrow creation you'll come up with!
How to participate:
Sign up with your scarecrow's name.
Drop off your scarecrow to the office on Friday, October 20.
Vote for your favorite scarecrow October 23-27.
The winner will be announced at the Fall Festival!