Mendocino Farms
DECEMBER 14, 2023 - 2:00PM - 9:00PM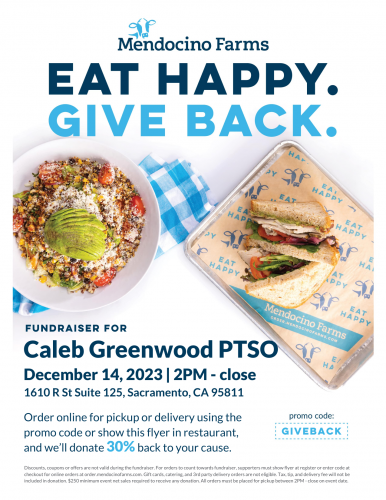 Please join us for our December fundraiser dinner of the school year on Thursday, December 14, 2023 from 2:00PM – 9:00PM at Mendocino Farms - 1610 R St Suite 125 Sacramento, CA 95811.
Our school will receive 30% back of sales generated to support special programs, teachers, staff and students. You can order order online, take out or dine there! Be sure to show the assigned flyer (that we will provide to families) at the register in the Mendocino Farms location listed above, or by ordering online at mendocinofarms.com using code GIVEBACK. All orders must be placed the day of the fundraiser (no scheduled orders allowed).
*Gift card sales, catering orders, tax, tip and delivery fees excluded.
Thank you for supporting your favorite school programs.