Young Actors Stage Presents Shrek Jr.
After School Musical Workshop (Winter 2024)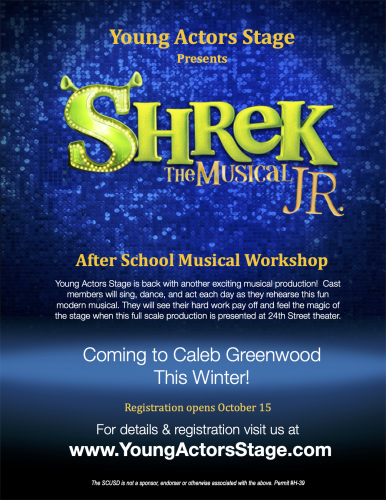 Young Actors Stage will be back at Caleb this winter with an exciting musical production of "Shrek Jr."! Cast members will sing, dance, and act each day as they rehearse this fun modern musical. They will see their hard work pay off and feel the magic of the stage when this full scale production is presented at 24th Street Theater.
Registration begins October 15, 2023. The session will begin in December 2023, rehearsing Mondays and Wednesdays (2:30-5:00pm), and culminate with a performance at 24th Street Theater, March 1-3, 2024.
For details and registration go to www.YoungActorsStage.com.
SCUSD is not a sponsor, endorser or otherwise associate with the above. Permit #H-39