History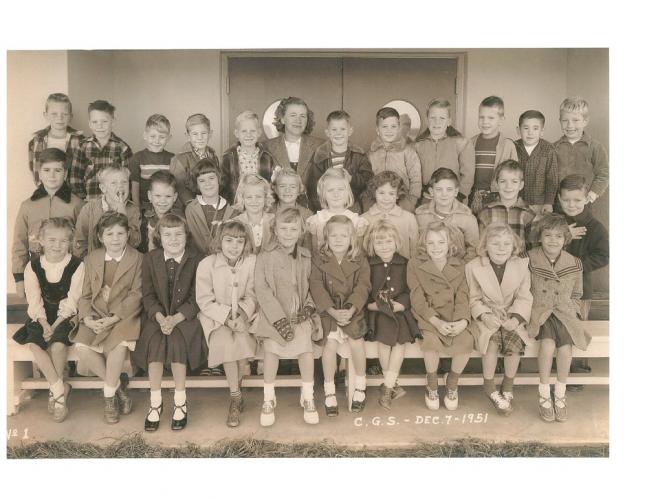 Caleb Greenwood Elementary School, in the River Park neighborhood, opened its doors to sixty students on September 10, 1950. The name Caleb Greenwood was given to the school by the Board of Education and was so named to honor one of the early mountain men in California history. Caleb Greenwood was best known for leading the first wagon train over the Sierra, the Stevens-Townsend-Murphy party, and for his heroic part in guiding the rescue of the Donner Party.
Mrs. Ethel Penny, principal, and two teachers; Mrs. Eleanor Marks, and Mrs. Daisy Goulart, welcomed the students on the first day. Mrs. Betty Kennedy joined the staff one week later. Principal Penny also taught and did office clerk duties. The building wasn't finished when school opened, but construction continued. There were no windows, doorknobs, bells, clocks, bookcases, shelves, or blackboards. The asphalt tile wasn't laid. It took six or eight weeks to finish it. Mr. Gillenwaters was the first custodian and Miss Barbara Backer served as a part-time clerk.
Six sixth grade students were the first class to graduate from Caleb Greenwood. They were Ronald Jones, Penny Edwards, Elaine Morris, Timmy Buckendorf, Bennett Cookson, and Diana Chatham. Thirteen Kindergarten students began their education at Caleb Greenwood that year.
Caleb Greenwood PTA was chartered on February 19, 1951 with fifteen members. Mrs. William Ballew served as the first president. Typical meetings began with cub scouts leading the flag salute, an inspirational thought, and always included a guest speaker. Chairmanships in the '50's included Character Education, Civil Defense, and Men Membership. The first carnival was in June of 1951. It was traditionally accompanied by a bike parade.
Principal Penny served until 1959. During her tenure at Caleb Greenwood, significant growth occurred. By 1952, enrollment had increased to 357 students, the staff had expanded to ten teachers, including a full time office clerk, and the PTA had grown from fifteen to 287 members. One class had to be taught in the enclosed hallway. Two new wings of classrooms were constructed in March of 1953. A new portable classroom was brought on site in 1954. Due to the combined efforts of PTA Recreation Chair Mrs. Hyde, the Orchard Terrace-River Park Improvement Association, and the River Park Garden Club, the recreation area behind the school was landscaped in 1955. 65 trees were planted in and around the school yard. The multi-purpose room was constructed in 1957 and cafeteria food became available that fall.